We keep the EWB Power Rankings simple this week with a special tribute to Mariano Rivera with the New York Islanders and Brooklyn Nets staying near the top.
Mariano Rivera will take the spot of the New York Yankees in this week's Power Rankings for obvious reason, but in classic fashion he also just beast out the New York Islanders and Brooklyn Nets for the top spot.
It is Wednesday so that means we rank the 12 teams we cover based on the last seven days.
Usually, I am in a savage mood when I do this. There really is not much change this week and it is mostly a brutal time to watch New York sports.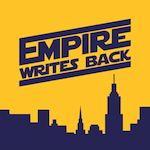 Want your voice heard? Join the Empire Writes Back team!
Naturally, in the middle of January days after like a six degree day, baseball is the talk of the town again.
Mariano Rivera and Mike Mussina are in the Hall of Fame and both Yankee legends. The Mets, once again do not get a Hall of Famer, but Twitter seems to think the next one is Carlos Beltran.
Either way, New York sports do not stop for any one or anything. So, here they are, the latest and perhaps the best Empire Writes Back Power Rankings.
1
Mo
Last rank:
3rd
---
Mariano Rivera kept the Hall of Fame 100% real this week as he got that same percentage of votes to get in. He is an-all time great baseball player and a New York legend. He obviously deserves the top spot this week, even over the teams that are playing well right now. Let's not forget about Mike Mussina too, he deserves it too. Yankees are at it again being all important and stuff.
2
BrookWIN Nets
Last rank:
2nd
---
The Nets just top the Islanders because the Islanders gained a point in a shootout loss hours before I wrote this. That is not to bash the Isles, they are delightful. Rather, this is to reward the Nets who are currently in the playoffs. D'Russ is still a budding star and they had a nice comeback win vs the Magic this weekend. Plus, they thrashed the
Kings
ironically enough on Martin Luther King day. Keep it up, Brooklyn you make me not hate basketball right now.
3
Iwinders
Last rank:
1st
---
The Islanders are on a roll. They won five straight before a shootout loss in Chicago cost them max points this week. They did go over 150 minutes without giving up a goal during the week and over two and a half games and are in first place in their division. Yes, they are in FIRST PLACE in the METRO division. At the All-Star break. We are living in some wild times, I will tell you.
4
James Dolan's Paradise Rangers
Last rank:
4
---
The Rangers are quietly not doing terrible right now. The time to make a playoff run might have passed, and they are not actually that good, but playing well right now. They won two straight this week, including beating the Bruins somehow. The Rangers stay at four. They will do this from time to time this year. Go on mini winning streaks then size exist. There is no middle, but at least they aren't technically in the middle of these rankings. Win some, lose some.
5
Bulls That Are Red
---
The Red Bulls do have the most relevant soccer in the market coming up in a few weeks. So without much happening they should stay here. Just don't
lose Kaku
. Losing Kaku would be really bad. Taking the transfer fees for him will be tempting but not as tempting as being a better team. Still waiting for that Cup, by the way, I'll cry on the three Shields while I wait.
6
J-E-T-S
Last rank:
Lower so progress
---
Eye was a little mean to the Jets last week after the whole Adam Gase press conference. However, that is all water under the bridge now. He is putting together a pretty solid staff…..okay no, that is not it, I just feel like I should give at least
Sam Darnold
the benefit of the doubt. The Jets move up in the rankings because of him. Don't mess up the draft, Jets, although you probably will.
7
Flushing Meadows Corona Park, Queens, New York Metropolitans
Last rank:
5
---
Hall of Fame inductions typically stink for Mets fans. Few and far between we get our guys in there donning the blue and orange (well the plaque isn't blue or orange, you get the point) proudly, but they also have my sorry soul all-in and ready for 2019 and I am excited for baseball. I guess all that comes next is the season, they won't spend more money. As far as the Hall of Fame maybe possibly the Mets get
Carlos Beltran
in as a Met but even he is a borderline first ballot and even he is borderline going in as a Met. So, let's just brush that debate off for now and let's go Mets!
8
New York City New York City Football Club
Last rank:
7
---
NYCFC are the new kids on the block despite having been around for a few seasons now. They should probably use some money and fill out the designated player spot that losing David Villa left to get better and make soccer more prominent in the City. Getting Keaton Parks is fine and dandy but there are more moves to be had. But what do I know? I am just the guy who makes these rankings based on teams doing things over the course of seven days, or not doing things in this instance.
9
Buffalo Bills
Last rank:
8
---
What do you want me to say about the Bills that I have not already said? There is nothing left. I am dead inside and they often make me hate football. I am happy to be in the offseason. I will enjoy the Super Bowl, fulfill my duties on this site as a writer and that is it. Otherwise, I will not let the Bills impact my mood until April's Draft when they inevitably continue to avoid getting help for
Josh Allen
. He is good, by the way.
10
New Jersey Devilololololololos
Last rank:
10th? I think not even worth going back and looking
---
The Devils do not get moved down in the Rankings because they only have a few games left before the All-Star break. The Devs might be better when they don't play at this point. I enjoy my nights more when they are not on because I have to watch every team. Leave this whole hockey-ing this year to the good teams in this market, like the Islanders.
11
New York Giants
Last rank:
11
---
I am just being hard on the Giants because I was so hard on the Jets for a while. But, have you seen the product of the NFL teams in this city lately? Who could possibly look at the Jets and Giants right now and think something is working. There is a reason Shurmur and Gase have a combined one season coaching in this city. Unreal. Build around Saquon then I'll be interested. They are probably bringing back Eli in 2019 soooooooo be ready.
12
Knicks
Last rank:
tank mode activated
---
The Knicks have 10 wins and it is January. I honestly do not even have to explain this one but it is just too easy. Did you know that the Knicks have lost a game on three different countries this year? Canada, England, and the United States. This is not Monica and Chandler from the show Friends where it "
doesn't count" because it's in England
. The Knicks are literally bad on multiple continents. I get the end goal in mind is Zion and tanking is the new way to get better but please don't make me watch this team right now. I only know what good basketball is from the Nets, oh, and from whoever is playing against the Knicks. Why cant Knicks just love their fans back? Just once?
Well, there you have it.
I really hope you enjoyed these rankings and are looking forward to them next week.
Sometimes, the only thing to look forward to in New York sports is talking about how bad they are right now.
What do you think? Should a team be higher? Should I go back to being hard on the Jets?
That's it for this weeks rankings. Alright, New York, y'all be good.