Josh Ho-Sang was surprisingly loaned to the Bridgeport Sounds Tigers by the New York Islanders this week. He answered the only way he knows how, with offense.
It was a surprise to everyone when the New York Islanders loaned Josh Ho-Sang to the Bridgeport Sound Tigers. He played well up to that point and yet, down he went.
Barry Trotz indicated that Josh Ho-Sang still needed to work on a few things and that he expected more offense than two points in ten games.
How Ho-Sang would respond to going back down to the AHL.
Picking Up Points
In his first game back in the AHL Josh Ho-Sang picked up two primary assists on goals from Chris Casto and Yannick Rathgeb.
The two helpers puts Josh Ho-Sangs points total to 24 in 27 games played in the AHL.
You couldn't ask for a better response to being sent down to the AHL. Its disappointing to be sent down when you have the impact that Josh Ho-Sang was having but once you're there you have to make the best of it.
Josh Ho-Sang (in only a game) is doing that.
It's clear that Ho-Sang is above the AHL level, but his coach feels like he still has something to learn before being a full-time NHL'er. And Ho-Sang is responding. You can't say that would have been the case under the previous regime.
Call it maturation on the part of Ho-Sang, or a more clear and direct communication style from Lou Lamoriello and Barry Trotz, but it's working.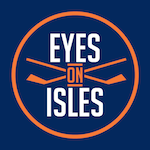 Want your voice heard? Join the Eyes On Isles team!
If Josh Ho-Sang continues this type of offense he'll be back in an Islanders jersey much sooner than later. Unless he still isn't doing what his coach is looking for, whatever that is.